EXCLUSIVE EXPERT TRAINING
We've pulled together the top Cybersecurity and Anti-Fraud global experts to help you better your craft no matter what stage of your career you are in.
Check out the line up you get full access with the VIP Pass: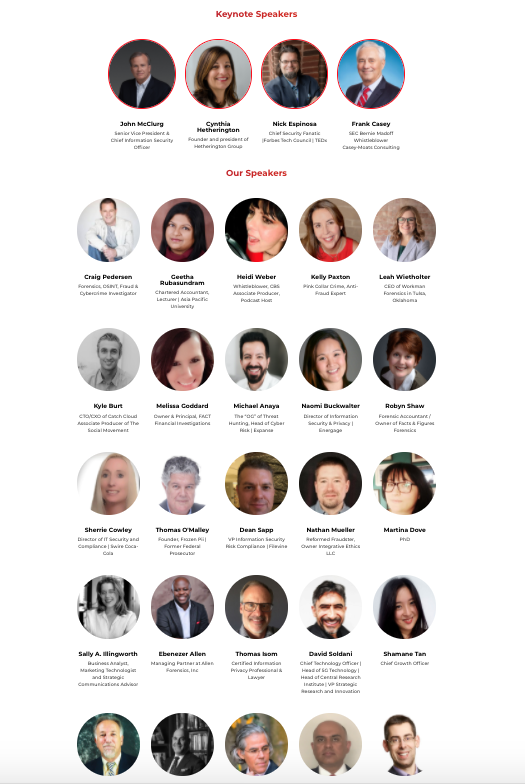 Cynthia Hetherington - Founder Hetherington Group
John McClurg -

SVP & CISO Blackberry

Nick Espinosa - Chief Security Fanatic | Forbes Tech
Frank Casey - SEC Madoff Whistleblower
Craig Pedersen - Forensics, OSINT, Fraud, Cybersecurity
Geetha Rubasundram - Chartered Accountant/Lecturer
Heidi Weber - Whistleblower, CBS Associate Producer
Kelly Paxton - Pink Collar Crime Expert
Leah Wietholter - CEO, Workman Forensics
Melissa Goddard - Owner, FACT Financial Investigations
Michael Anaya - The "OG" of Threat Hunting
Naomi Buckwalter - Director, InfoSec & Privacy
Robyn Shaw - Owner, Facts & Figures Forensics
Sherrie Cowley - Director of IT Security & Compliance
Thomas O'Malley - Founder, Frozen Pii, Prosecutor (Ret.)
Dean Sapp -VP Information Security Risk Compliance
Nathan Mueller - Reformed Fraudster/Owner Int. Ethics
Dr. Martina Dove - Behavioral Expert
Sally Illingworth - Technologist & Strategist
Ebenezer Allen - Owner, Allen Forensics
Thomas Isom - CIPP, Lawyer
Dr David Soldani - CTO & Head of Innovation
Shamane Tan - Chief Growth Officer
Mark Anderson - Special Agent (Ret.) Anderson Investi...
Matt Spaier - Private Investigator
Dr. Jimmie Lenz - Duke FinTech Cybersecurity
AJ Kahn - CEO, Vehiqilla
Dom Vogel - Founder & Chief Strategist Cyber.sc
Steve Landes - Cyber Interpreter
Jim Van Dyke - CEO, Breach Clarity
Parker Russell - Council & Compliance Director
Scott Furhiman - Veteran Tech Executive
Jordan Hudgens - CTO, Bottega
Daniel Coley - IT Director
Dr. Marybeth Finn - CAO, Bottega University
Ben Jenkins - Owner, Wodobo
Ben Nicklaus - Senior Instructor, Bottega
Allyn Roberts - BCDR
Isaac Painter - Security Training & Awareness Mgr
COLLABORATING ON A COMMON FIGHT
Whether you fight fraudsters that steal money or hackers that steal data to sell for money, we fight a common adversary. It's time we converge these two disciplines and collaborate people, processes and technologies.
CyberCraft® Continuing Professional Education (CPE) is meant to be different than what has been done for decades. We bring together the world's best industry experts and provide the most relevant training for fighting today's hackers and fraudsters.
CyberCraft® simply makes earning CPE simple, affordable and fun.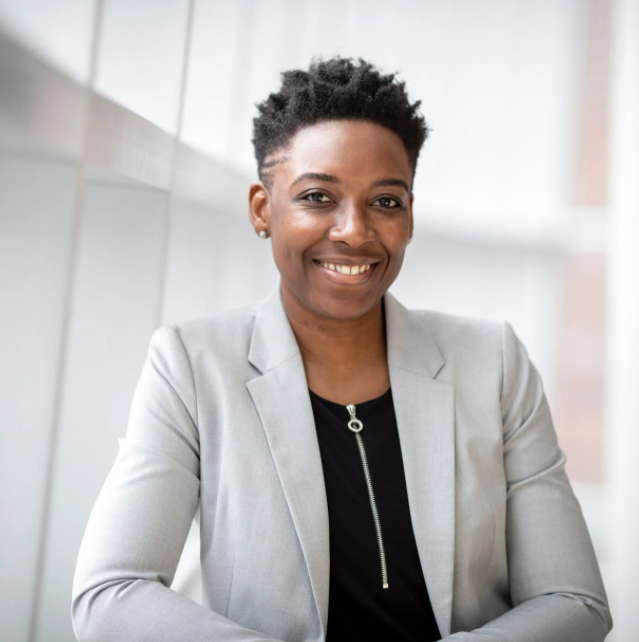 SUCCESS WITH YOU IN MIND
It's about YOU bettering YOUR Craft.
Whether you are brand new to the industry and trying to break in or have decades of experience, our training is for you.
Each of our courses comes with the following:
Course Description & Learning Objectives
Quiz to test learning and earn CPE
Online, mobile friendly access
Take at your own pace (1 year to complete)
Forever access to course content
Instant certificate of completion after passing quiz
Ability to engage with other peers taking the course
Note: Self-study CPE is issued based on conforming to standards generally accepted by professional certification bodies like the ACFE, IIA, ISACA, ISC2 and others.
Because requirements can vary, it is your responsibility to ensure self-study CPE credit can be accepted.
Other Featured Courses
Check out our library of courses taught by leading subject matter experts.
EXAMPLE